It's Almost Drought Season Again
Wow, it's February already! It doesn't seem five minutes since Christmas and New Year but if we've learnt one thing over the last ten years, it is that every day brings a new challenge in wild tiger conservation; and because of this time really does fly by. I can't start this project report, without thanking you all for your amazing support during our GivingTuesday and YearEnd fundraising campaigns. We know that Christmas is one of the most expensive times of year for many people, but your generosity has enabled us to raise £587.76 (US$774.49) for our waterhole project alone!
In December, we conducted surveys out at the two potential waterhole sites mentioned in our last report, and the good news is that both are suitable for solar-powered bore-well systems to provide year round water for wild tigers and other wildlife. As February progresses, the average daily temperatures increase and with the hotter days, the rivers, streams, pools, lakes and other surface water locations start to dry out. Deer, which are native prey for wild tigers, need drinking water to help with the digestion of their herbivorous diet. When the natural water resources are dry, the deer will often wander into the villages in search of drinking water from the puddles which surround the village wells. The deer, unfortunately, don't stop at just drinking water, because the forest grasslands have become parched and leaves from the trees have dried and fallen to the ground, so the deer see the crops in the villages as a new source of food.
It is not uncommon for villagers to lose up to 37% of their annual income from the loss of crops raided by these herbivores (PLOS One Article). Sadly, the human-animal conflict doesn't stop at crop raiding, as predators follow their prey into the villages and when the deer run away the domesticated livestock just stand in the paddocks and fields continuing to graze, they are oblivious to the fact that they are now on the menu; and in the blink of an eye a cow, bullock, goat, etc., is taken for the predator's next meal. Easy pickings, these animals don't run away! The tigers and leopards now have new prey! It is so easy to hunt these animals which don't run away so why bother chasing deer or wild boar? Some unfortunate villagers lose up to 48% of their livestock to habitual predators annually! A frightening statistic of human-animal conflict and one, which if not addressed, will threaten the future existence of wild tigers in the area.
Our waterholes seek to reduce this risk, if we can provide year round water for the prey animals; we can keep them out of the villages and reduce the risk of them raiding crops; but not only that, we can also reduce the risk of tigers and leopards following their prey into the villages and taking livestock instead. If the villagers don't suffer excessive losses due to human-animal conflict, they are far more likely to accept living with wild tigers and other animals on the fringes of their homes. Thus it is more likely that wild tigers will have wild futures.
It is more than a year since we completed our last wildlife waterhole project, and although this is helping to keep up to 33 tigers including cubs away from the villages, but we still need to do something about the remaining two thirds of the wild tiger population to ensure that we can give them wild futures too. Over the last year, we have been working very hard to try to find a collaborative partner to help us deliver more waterholes in a shorter period of time, although we are making some progress in this area, we still need the help of our loyal supporters to help us deliver our next waterhole project. Without your help we won't be able to start work on our next waterhole before the drought season takes hold. It is a lot to ask but if everyone who received this project report donated £260 (US$350) each we would be able to start work on our next waterhole within a month. We know that some of you are runners, swimmers and keen cyclists and as the weather improves you'll be keen to get out more so could we ask you to become a Tigers4Ever fundraiser https://www.globalgiving.org/dy/v2/fundraisers/start/?fundraiser.projids=34315 and ask your friends, work colleagues and family to donate to your fundraiser in lieu of sponsoring your activity, please? Remember, once a tiger becomes a habitualised predator of domestic livestock it will create human-tiger conflict with every kill and every angry farmer will only tolerate so much, so by delivering more waterholes we are reducing this risk and improving the long term survival chances of wild tigers in Bandhavgarh.
In recent years, the hot drier weather has been arriving earlier and earlier; rivers and streams which once had a healthy flow of water until late February have dried up before January drew to a close. Lakes and ponds are also beginning to dry up, as plentiful water is replaced by long sandy banks leading to either a small puddle or a dry sandy basin. As the dry season takes hold, human-animal conflict will increases day by day as herbivores enter the villages in search of water and feast on the crops whilst there. Predators will inevitably follow and kill the livestock which lacks the instinct to run away. If it happens just once, the farmers and villagers who suffer the loss might be appeased by the compensation, but it will set a precedent for the wildlife which has discovered an easy source of food and thus angry humans are moved to take matters into their own hands. Some villagers who lose almost everything to these raids, set wire snares and traps to stop future raids, whilst others poison the carcasses of their dead livestock to kill the tigers or leopards (and their cubs) when they return to finish their meals.
Our experience tells us that prevention is better than compensation and our permanent wildlife waterholes provide a means of prevention. When prey animals have adequate water resources inside the protected areas of the national park they don't need to enter the villages to search for it. Likewise, if the prey hasn't wandered away the predators will have plenty of food nearby and won't need to enter the villages to look for it. By providing year round water, we help to keep wildlife including tigers away from traps and snares; AND eliminate retaliatory poisonings by villagers disgruntled by the loss of their livestock. There will always be exceptions but by keeping these to a minimum and working with the authorities to ensure the villagers receive prompt and adequate compensation, we are keeping wild tigers alive.
It is five months until the start of the monsoon rains, when these water sources will replenish naturally, in the interim tigers and their prey will be dependent on the waterholes sourced from underground streams and wells, but tiger-tiger conflict is an issue too. Tigers find themselves competing for the same prey at the same waterholes and when there is insufficient to go round, tigers will fight each other for prey, for territory, for a mate, or just for dominance. These fights are often short but brutal and it is not uncommon for one tiger to die from the inflicted wounds. We don't want to seem like it is all doom and gloom, but we have to face facts we are witnessing an unprecedented cub survival rate right now which means that tiger numbers are at the highest for over 30 years, but tigers need space, prey and water to flourish. Together we can give them what they need if we can deliver up to ten more permanent waterholes, starting with the next.
To date, we have raised £2871 (US$3790) of our £10560 (US$13250) target to complete our next waterhole so we really need your help to enable us to start work before the drought takes hold and human-animal conflict becomes the norm. It is a huge ask, especially after Christmas, but if each of our supporters could help us to raise £260 (US$350) each then we could start work on our next waterhole which could benefit up to 16 wild tigers including cubs in next few weeks. Each £400 (US$500) donation helps us to fund 6% of a solar-powered pump system to bring underground water to the surface for wild tigers. Without these funds, starting this vital work will be delayed and we will be at the mercy of the weather as to when the natural water resources run dry. The good news is that GlobalGiving's Little By Little Campaign is on the way (23-27 March 2020), and any new unique donations up to £38 (US$50) which we receive online during the campaign for our waterhole project at: https://goto.gg/34315 will qualify for a matched funding bonus of 50% during that week (on donations above £38/US$50 will receive 50% matched bonus funds to a maximum of $25 throughout the campaign). There are also bonus prizes to be won for the projects with the most unique donors and most funds raised, but we need 20+ unique donors to qualify for one of these.
We know that not everyone can afford a large donation but we don't want you to feel like you can't help; every donation which we receive will have an impact for wild tigers no matter how large or small the donation is. So please, don't hesitate to help, the drought season will take hold before we know it and without water wild tigers lives will be at risk. Please also share our project link: https://goto.gg/34315 with your family, friends, colleagues and especially when you are posting on social media.
We will continue our quest to find a major donor or project sponsor, in the meantime, but have no fear, if we find a major donor and achieve our fundraising target we'll be able to build not one but two permanent wildlife waterholes before the 2020 drought season takes hold.
All our waterholes are constructed with the environment in mind; we use solar powered pumps to avoid water tankers polluting the jungle; and soak away systems to ensure excess water returns to its underground source. So by helping us to provide drinking water for wild tigers you're also helping to reduce the impact of climate change and g to reduce human-animal conflict in the jungles of central India:https://goto.gg/34315.
Thank you on behalf of the wild tigers, which you are helping us to keep safe; and on behalf of the wider tiger community in Bandhavgarh, which benefits from providing equipment and labour for our waterhole projects; we couldn't do this without you.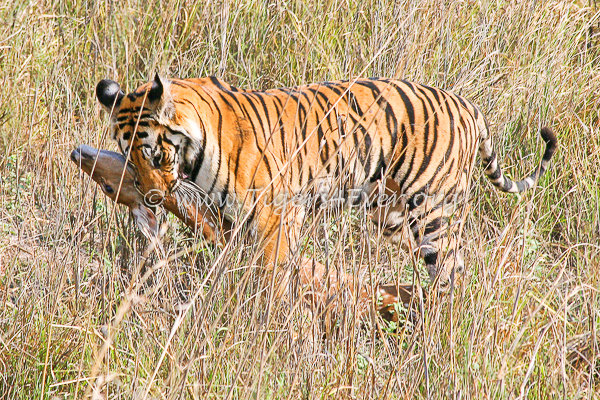 Young Tiger with a Deer Kill
Links: