It's Cold Out There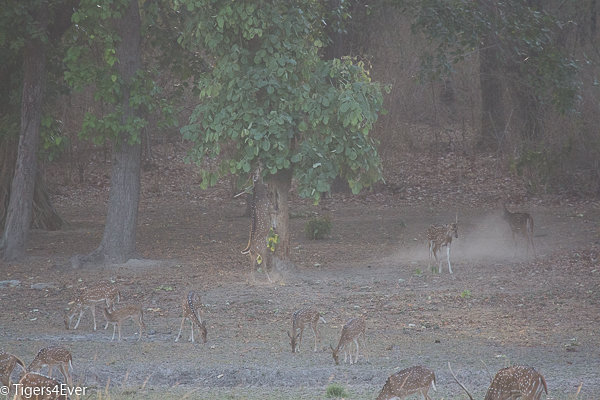 Mist and fog make it difficult to see wildlife
Happy New Year to you all, I hope that it has started well and that you're sticking to your new year's resolutions, if you made them? January is always a time when we set out all the things that we'd like to happen in the coming year, and we're no different at Tigers4Ever. Of course, the underlying objective of giving wild tigers a wild future remains the same but we reflect on what we have done in the previous year and see what needs to change to address the challenges we will face over the next 12 months. Thank to everyone who donated during our GivingTuesday and Year End fundraising campaigns, the money raised together with bonus matched funds will help us to keep our anti-poaching patrols protecting wild tigers throughout January and February 2020.
We don't like to go on about the weather but Bandhavgarh has been experiencing some of the coldest days and nights on record for over a month now. I was somewhat shocked to learn just a few days ago that the overnight temperature in the north of England was more than double the similar temperature in Bandhavgarh. I definitely don't like the cold, as I am sure that many of you feel the same? We were pleased therefore to have added warm thick jumpers and jackets to our patrollers uniforms in late 2018. The brave men and women who risk their lives to protect the wild tigers certainly need their warm clothing right now. A donation of just £15/US$20 can buy a thick warm jacket to protect our patrollers from the freezing temperatures during their night and early morning patrols (https://goto.gg/28767). Daytime temperatures are beginning to increase but it is nowhere near as warm as usual for this time of year. The last time we experienced a similar cold snap to this was in 2018 when it was followed by extreme heat, drought and some of the highest temperatures on record throughout February – the end of June. Our wildlife waterholes will be an essential component for wild tiger conservation if this extreme drought period repeats again in 2020; you can learn more about how our waterholes sustain wildlife and reduce human-animal conflict here:https://www.GlobalGiving.org/projects/water-for-bandhavgarhs-tigers/.
You magnificent support throughout the course of this project has helped us to achieve 91.5% of our fundraising total, with £8791 of £9600 (US$11502 of US$12550) raised. The challenges we will face over the coming months will be very different from the end of 2019 because freezing cold overnight and early morning temperatures and fog will play a big part in increasing the dangers for both the wild tigers and our patrollers; but by the end of February with many natural water resources running dry wild animals will be more unpredictable as they search for water and food. It still seems strange to talk about freezing cold weather in the jungles of central India, but the reality is that in the last four years, early morning and late night temperatures have plummeted to a testing 0°C (32°F) and this year daytime temperatures are only reaching 20°C (68°F) instead of the usual 27°C (81°F) for this time of year. For those of us who live in a temperate climate like the UK or Canada/Northern USA, we probably think daytime temperatures of 20°C (68°F) aren't bad at all for January, but imagine temperatures of 0°C (32°F), or below, overnight and no heating and things don't seem so rosy anymore. Our patrollers don't complain they are grateful to share a campfire with forest Department rangers at the forest lookout posts whilst they eat the hot nutritious meals which we provide for them whilst they are on duty. Did you know that for £40/US$54 it is possible to feed a team of anti-poaching patrollers with nutritious hot meals which they are on duty, something which is vital when they are patrolling for 12 hours in such cold conditions (https://goto.gg/28767). Often the rangers will share a cup of chai with our patrollers before joining them in the patrol of the nearby forest. By working together we can ensure that vital information about wildlife movements and miscreant activities are shared. This helps to enhance the safety of both Tigers4Ever patrollers and forest department rangers.
Sturdy warm boots are like heavy coats essential wear for our Anti-Poaching Patrollers during the freezing cold night and early morning patrols. As the winter draws to a close, we will check the uniforms of our patrollers and replace worn out boots and clothing. Our patrollers are very good at making their equipment last, by repairing tears and snags in their uniforms throughout the year, but sometimes they will need new and that is when we need a few extra donations to help. A donation of just £114 (US$153) can help us to provide a full summer uniform and equipment for one patroller, this rises to £154 (US$208) if sturdy warm boots and a thick coat/jumper are also needed https://goto.gg/28767. We can all relate to how essential a warm coat and sturdy shoes are on a freezing cold night or morning….
In recent years, there has been a peak in miscreant activity following Christmas and New Year so our night patrollers have to be on high alert for illegal loggers and would be poachers moving around the forest under the cover of darkness. It is particularly important to eliminate both these risks before poachers have a chance to lay their traps and snares. Our patrollers are always keen to let miscreants know about the potential consequences of their activities on the wildlife, the forest and their own safety.
The early morning mists and fog, which are an increasing feature of the cold winter months in Bandhavgarh, also present challenges for our patrollers. These mists can sometimes linger for a few hours around dawn, until the sun is high enough in the sky and the temperatures have risen sufficiently for them to clear. Patrolling at this time has heightened risks because of reduced visibility for both the patrollers and the langur monkeys, who often sound the first alarm for an approaching predator such as a tiger or leopard. Extra care is also needed to ensure that our patrollers don't inadvertently step into a trap or snare, set for wild animals, due to reduced visibility. The strong canes which we provide for our patrollers can prove vital during the early morning mists as they patrol through the lush vegetation. A donation of £20 (US$26) can help to provide a team of Anti-Poaching Patrollers with strong canes which they can use to check for traps and snares before they put their feet and legs at risk: https://goto.gg/28767. If you have read our earlier reports, you will know that tigers are crepuscular hunters, i.e. they usually hunt at dawn and dusk, which means that during the early morning mists they can use the natural blanket as extra camouflage as the sneak up on their prey. Our patrollers also have to be extra vigilant at this time of increased tiger activity not to suddenly interrupt a tiger with its kill or become accidental prey. At this time, our patrol vehicles play a key role in ensuring that our patrollers can escape to safety if a tiger suddenly appears from the early morning mists. A donation of £38 (US$50) can provide fuel and transport (including an emergency escape) for a team of patrollers for one day: https://goto.gg/28767.
Each year, the success of our anti-poaching patrols has ensured that more tiger cubs are surviving to adulthood and thus tiger numbers have increased year on year. Since we started our first of its kind buffer zone anti-poaching patrols on 01 July 2015, we have witnessed a 97% reduction in wild tiger deaths due to poaching and elimination of wild tiger deaths due to retaliatory poisonings, whilst wild tiger numbers have almost doubled in the same period. This success means more work though, as there are now more tigers to protect. Every month, we receive requests to increase our patrolling, but we can't do this with our current funding levels so we need your help. To meet the increased demand we need to raise an extra £125 (US$168) each month in addition to the £802 (US$1075) we currently need. We set up a parallel project https://goto.gg/34704 to cover the cost of our patrolling in 2019/2020, and we are still a long way short of our fundraising target for this too. Our fundraising efforts over the Year End Campaign (including Giving Tuesday) focussed on raising funds for our Anti-Poaching Patrols and it seems that we will have to step up our efforts in the first quarter of 2020 too. If you have given up something for January would you consider making a donation to our anti-poaching patrols https://goto.gg/28767) from the money you save? Or perhaps if you are trying to lose weight, get fit or targeting another personal goal you could set up a fundraising page at: https://www.GlobalGiving.org/dy/v2/fundraisers/start/?fundraiser.projids=34704 to help us to continue our vital patrolling throughout the next few months?
Finally, I would like to thank you all again for your continued amazing support and donations, which have not only enabled us to give wild tigers a wild future they have helped us to increase their numbers too. I know that many of you have Christmas to pay for in recent weeks, so if you can't donate large amounts right now, perhaps you could consider a small donation each month instead at: https://www.GlobalGiving.org/projects/saving-bandhavgarhs-wild-tigers/?show=recurring, every little really does make a big difference for the wild tigers. I know that the wild tigers which you are helping us to keep safe can't thank you themselves, so I am saying thank you on their behalf. Thank you also, on behalf of the patrollers we are keeping in work (and their families who have food on the table); and on behalf of the wider tiger community in Bandhavgarh, which benefits from providing food/uniforms/equipment for our patrols and from the safety/education advice given by Deepak, Prahlad, Vidya, Ravi, Sandip and the rest of our anti-poaching patrol team.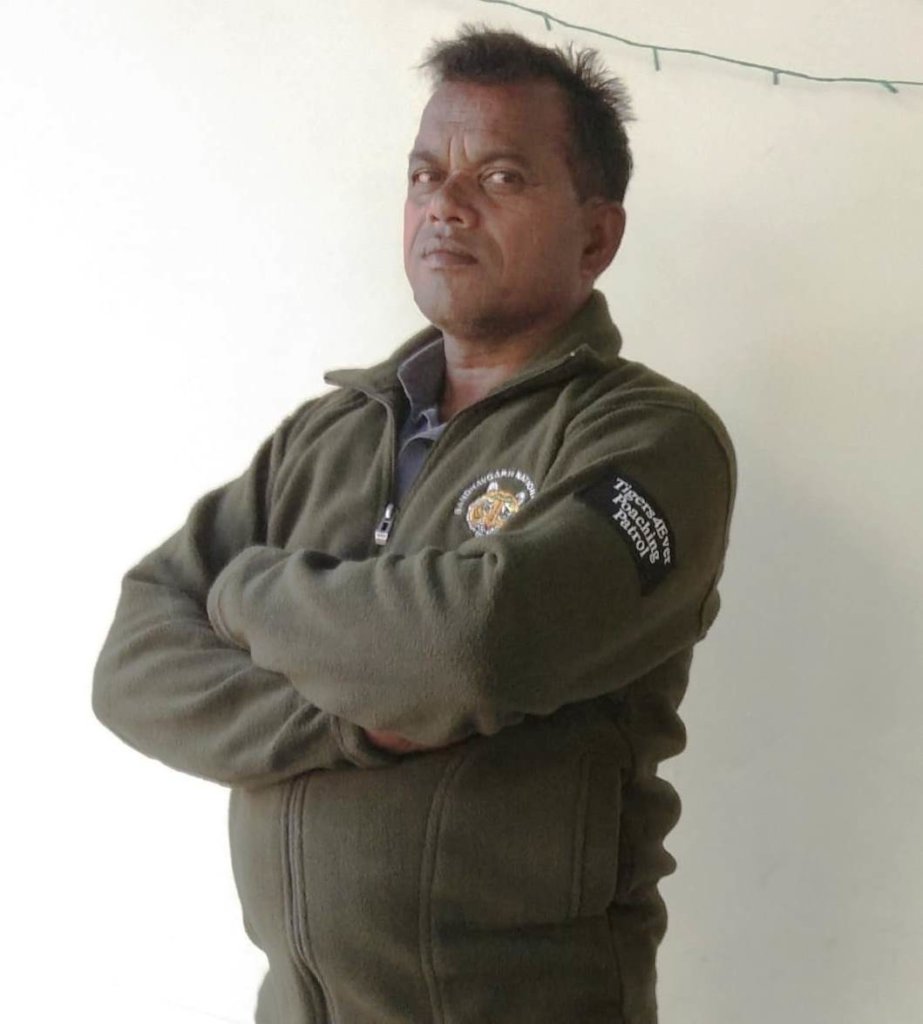 Warm Jackets are Essential in Winter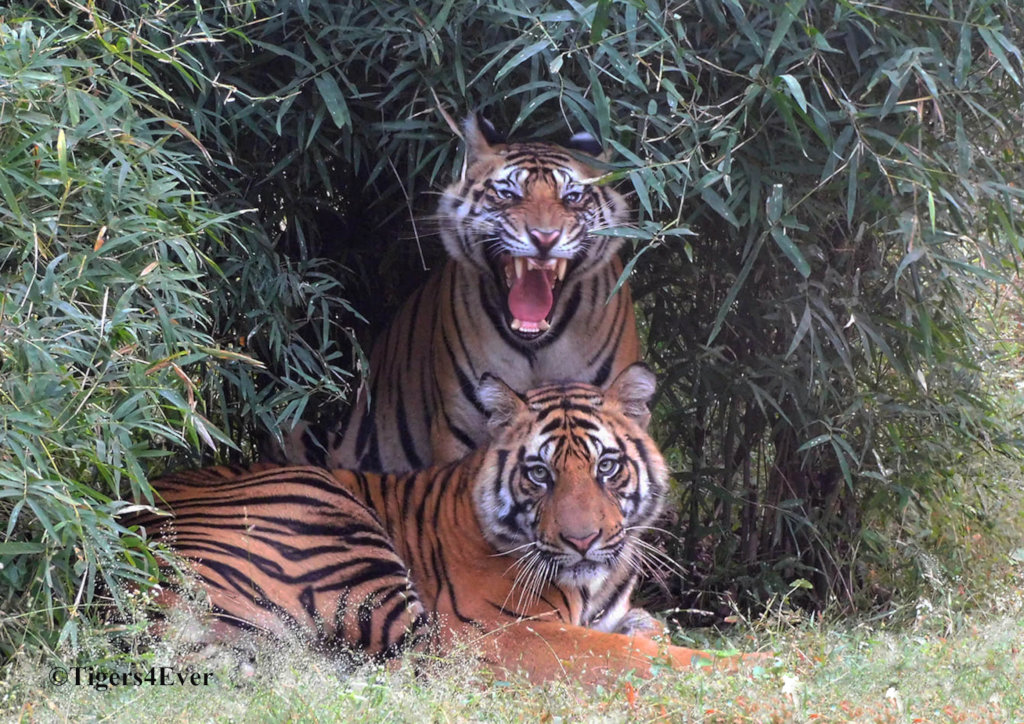 Young Tigers in the Lush Undergrowth