The Drought Season is Back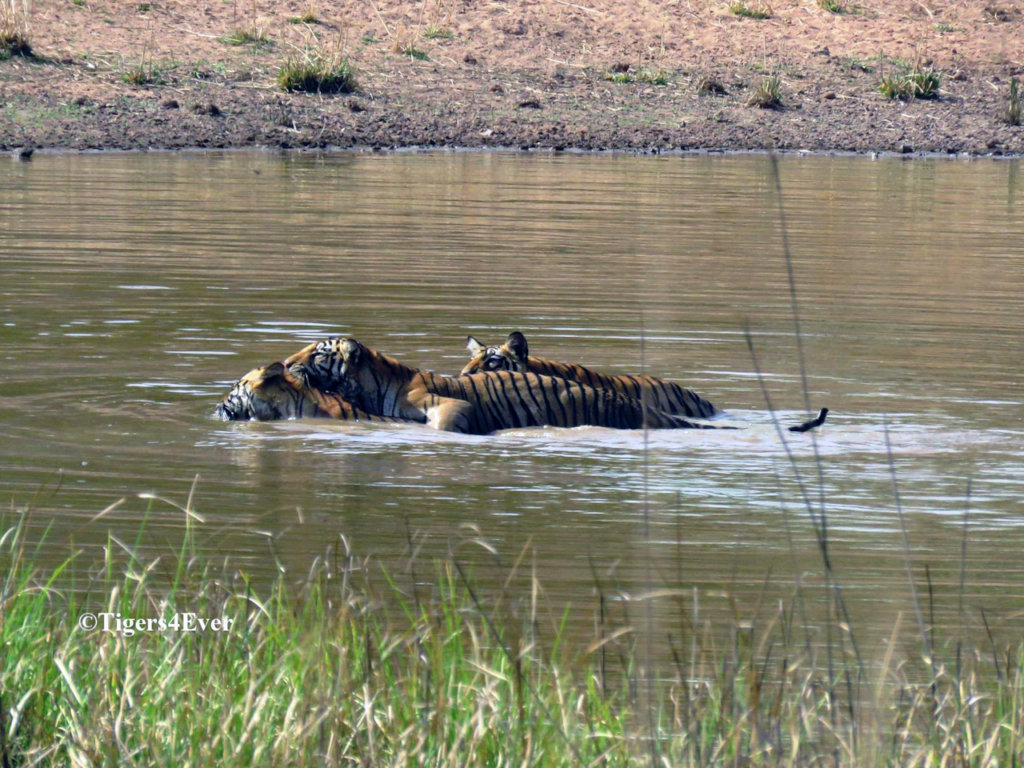 Just over a month ago we received a stark reminder of just how essential our permanent wildlife waterholes are when wild elephants damaged the solar pump systems at two locations rendering the pump systems inoperable: https://goto.gg/51049. Within two weeks the waterholes were dry, just like the many streams, rivers and natural waterholes around Bandhavgarh as the hot dry weather takes hold. We set up the above micro-project and thanks to your amazing support we raised sufficient funds to commence the repair work this week. New solar panels have arrived and the frame is currently being repaired so the solar powered borehole pumps will be operational by the end of this week, fingers crossed.
The incident highlighted something which when we first installed our solar-powered pump systems wasn't a problem: wild elephant damage. Wild elephants are relatively new in Bandhavgarh as the herds only arrived from the neighbouring state of Chhattisgarh when mining activity disrupted their former home. These elephants took a liking to Bandhavgarh and stayed, the herds are now growing as new calves are born so it is definitely something we need to think about going forward. We did some research and found that two environmentally friendly elephant proof fencing options are available so the repaired solar-powered borehole pump systems and all those at future waterholes will incorporate either chilli fencing or bee-hive fencing to deter the elephants from causing future damage. We will also be talking with the villagers whose crops were decimated by elephants in 2020 to encourage them to protect their 2021 crops with either of these options too. An added bonus for the villagers is that deer don't like chilli peppers either so growing chilli peppers along fences around seasonal crops will reduce crop raiding too. In a time when the economic impact of COVID19 is still devastating the wider tiger community every little help can make a huge difference. The protective fencing whether bee-hive or chilli peppers will also generate something else for the villagers to sell, thus reducing their dependency on scarce forest resources; and in turn reduces the human-animal conflict which inevitably increases with human encroachment.
The speed in which our waterholes became dry was frightening, such is the impact of climate change, that February is now hotter and drier whilst marking the onset of the drought which will plague the wildlife and human communities for the next four months. It reminded us that more wildlife waterholes are essential to address the impact of climate change, and that the drought isn't going to wait until we are ready, we must act now.
16 Tigers and Cubs need your help
There are 16 tigers with cubs which face daily challenges of either human-animal or tiger-tiger conflict due to a lack of water in the home territories, we urgently need to do something before these tigers start to lose their lives. The impact of COVID19 has made it difficult to raise funds from corporate sources to make the next waterhole happen, so we are turning to you, our loyal and generous supporters for help. If every person who had donated to this project: https://goto.gg/34315 previously gave just £40 ($56) each today we could start work on our next waterhole immediately and save the lives of these 16 wild tigers and reduce the risk of human-animal conflict increasing in the nearby villages. Now that would be truly amazing.
Your support over the last year has been truly magnificent, thank you. It has helped us to provide 4 drinking water tanks for anti-poaching patrollers in remote locations around the forest giving them safe access to clean drinking water; you also helped us to keep our anti-poaching patrols going in the face of adversity and helped us replace worn out uniforms and boots; and have helped us to do essential repairs at two of our existing permanent wildlife waterholes too. We haven't forgotten our promise to build the next permanent wildlife waterhole, nor the tigers which it will benefit; we're just struggling to raise the necessary funds to make it happen. We thought that we could wait for things to improve so we could engage the help of a potential corporate partner to build the next permanent wildlife waterhole now, but this is sadly proving impossible.
We don't want COVID19 and Climate Change to destroy the progress we have made in wild tiger conservation over the last 10 years and we want to ensure that our efforts to give wild tigers a wild future can keep gaining momentum. In spite of the challenges we have all faced over the last year, your collective spirit and generosity has been truly inspiring. Your donations and continued support over this time has strengthened our hope that when we pull through this pandemic, wild tigers will still thrive in the jungles of Bandhavgarh, and we will be able to carry on giving them a wild future. So on behalf of those tigers, we'd like to thank you for not forgetting that without your help we wouldn't be able to keep them safe.
A Reminder of the Current Risks to wild Tigers we're facing:
Human-Animal conflict has increased with tiger attacks on humans being almost a weekly or more frequent event. Coupled with a farmer and a young girl being killed by marauding wild elephants as they tried to save their crops;
Villagers poisoned a wild tigress and two of her cubs in a retaliatory attack due to persistent livestock killings;
Wild elephants have decimated many paddy fields ruining the rice crops of multiple villagers which left them with both food and income shortages;
Human encroachment continues to increase to unprecedented levels as precious forest resources are plundered to keep food on the table for families who haven't had paid employment since 25 March 2020; and
The 2021 drought season and the impact of Climate change is already here.
But it's not all bad news for wild tigers
On a positive note, there have been some successes too:
We managed to raise £346 (US$474) towards our next waterhole construction, due to your fantastic support;
No wild tigers deaths due to poaching for 53 months;
No retaliatory poisonings for 5 months;
Anti-Poaching Patrols still doubledto protect wild tigers;
Ten new tiger cubs born since our last report;
Patrollers at 4 remote camps have safe drinking water so no longer have to fill their drinking water bottles at the same waterholes used by tigers and other wildlife;
We still plan to put the next permanent waterhole for wild tigers in a critical dry location as soon as we have sufficient funds.
How you can help
We know that we need to quadruple our efforts to keep wild tigers safe right now. It is normal to double our efforts throughout the peak poaching season, but we could be facing another four to six months of the same difficult conditions we've already set out in this project report. So the best way to help us keep wild tigers safe is to fund our projects today, because tomorrow might be too late.
Remember all new monthly donations set up during 2021 with qualify for a 100% GlobalGiving bonus match on month four: https://www.globalgiving.org/projects/water-for-bandhavgarhs-tigers/?show=recurring.
Here are some of the ways your donations help us to save wild tigers:
– £10 ($13) per month will help to drill 12 metres (39 feet) of bore-well to access underground water;
– £20 ($26) will help to drill 2 metres (6.5 feet) of bore-well to access underground water;
– £75 ($95) can pay a team of workers to prepare a site for a new waterhole for wild tigers;
– £380 ($475) will fund 6% of a solar system to bring underground water to the surface.
Every donation, no matter how large or small, helps us increase and protect the tiger population. Thank you on behalf of the wild tigers, which you are helping us to keep safe; and on behalf of the wider tiger community in Bandhavgarh, which benefits from providing equipment and labour for our waterhole projects; we couldn't do this without you. Thanks to you, the tigers can live peacefully and those who live beside them can protect their livelihoods.
Any and all donations are welcome https://goto.gg/34315.
If you can't afford to donate perhaps you could become a become a Tigers4Ever fundraiser, here: https://www.globalgiving.org/dy/v2/fundraisers/start/?fundraiser.projids=34315 and ask your friends, colleagues and family to donate to your fundraiser to help us keep wild tigers safe.