Water Challenges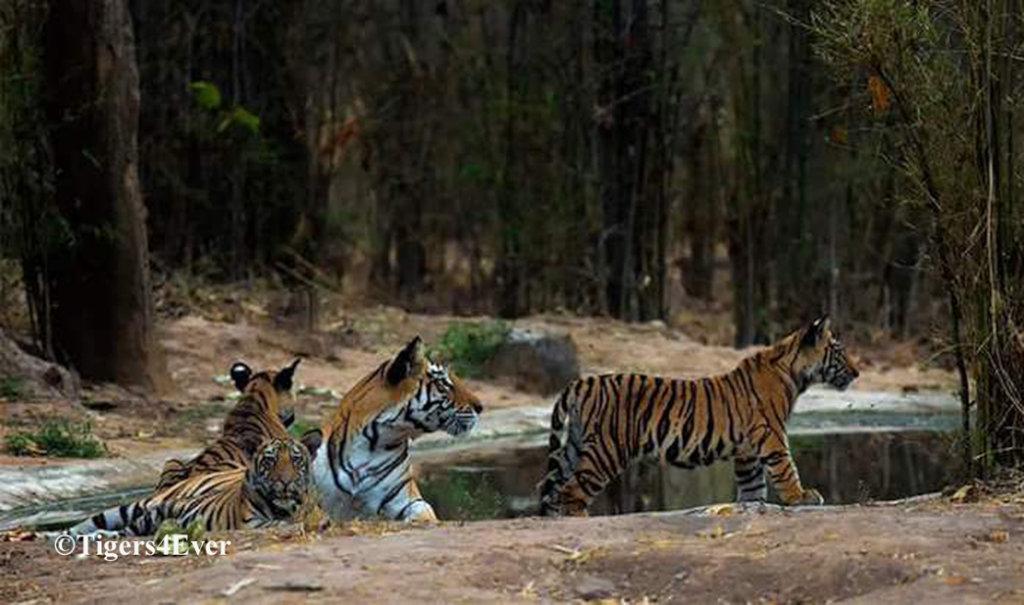 When we wrote our last report in September we'd hoped that things would have changed significantly in respect of COVID19 by Christmas, but sadly it looks like the threats which have blighted 2020 are here to stay for the foreseeable future anyway. Like the rest of the world we've spent most of the year adapting to the biggest challenges thrown our way by the ever advancing impacts of COVID19. We should be getting used to it; given that we've had nine months to adapt but as the months have progressed we've seen a huge surge in human-animal conflict, unprecedented levels of encroachment into wild tiger territory and sadly in October a return of retaliatory poisonings which cost three wild tigers their lives. I think it is fair to say that 2020 has presented some of the biggest challenges that most of us will face in our lifetimes and it's not over yet, in just a few weeks the temperatures in India will start to rise dramatically and natural water sources will begin to run dry.
We haven't made the progress we would have liked to since our last project newsletter due in part to the economic impact of COVID19 and also partly due to continued restrictions at the ground level in India. We await the geologists' report regarding the dispersal patterns of surface water from the monsoon rains to establish how much flood water has been lost to run away and whether we can incorporate mechanisms into future waterhole designs so that some of the lost water can be recycled to improve underground water sources, but to ensure that we have a balanced understanding a period of dry weather which dramatically impacts surface water sources we must wait a while longer for the output from this study. For now we must focus our attention on fundraising so that we can deliver the next permanent wildlife waterhole as soon as possible but preferably before the onset of the drought season in February.
For the last nine months our fundraising efforts have been almost exclusively focused on our anti-poaching patrols project, because of the increased risks to wild tigers brought about by the economic impact of COVID19. During this time we have faced new challenges from increased human-animal conflict and the impact of unprecedented levels of encroachment on wild tiger habitat. We have also seen a relatively new challenge brought about by the wild elephants which have now made Bandhavgarh their home. The wider tiger community around Bandhavgarh national park hasn't had to deal with the impact of marauding elephants until the last few years, now farmers are losing their entire crops and in some cases their lives as the elephants demolish paddy fields (rice crops) and wheat fields by a combination of movement and feeding. The farmers were already at breaking point due to the financial impacts of COVID19, and now with insufficient compensation available to cover their losses they are desperate for solutions to feed themselves and their families. We know that this will but even more pressure on the tigers and their forest home so we are keeping our Anti-Poaching Patrols doubled for as long as we have sufficient funds to cover this.
We can't just hope that these threats will go away overnight; we must be proactive at putting in place measures to reduce the ongoing and future threat of increased human-animal conflict. The villagers can't afford to lose any more food crops to marauding wildlife so we need to find ways of keeping the wild animals in the forest as the natural water sources dry up. We also need to address the issues of encroachment before the onset of the drought season as there will undoubtedly be more people in the forest as the Tendu and Mahua picking seasons begin. So we need to do whatever we can to make our next permanent wildlife waterhole a reality before it is too late, even if this means putting a solar powered borehole pump system in place at the site of an existing water source to prevent it from running dry. In an ideal world we would commence such work by February 2021 at the latest, but we need your help to make this happen.
Your support throughout 2020 has been amazing, you helped us to provide 4 drinking water tanks patrollers in remote locations around the forest have safe access to clean drinking water, you helped us to keep our anti-poaching patrols going in the face of adversity and have continued to contribute towards our next permanent wildlife waterhole, which, given the challenges that everyone is facing right now, is amazing too. Whilst our focus has been on keeping wild tigers out of poachers' snares and traps during the extended peak poaching season of the last nine months, and which isn't over yet, we haven't forgotten our promise to build the next permanent wildlife waterhole, nor the tigers which it will benefit. Thus we must prepare for the day when the ban on moving the necessary equipment into position is lifted and ensure that our waterhole project is sufficiently funded to get these plans back on track.
As outlined in our last report we've almost covered the cost of drilling a new bore-well for the pump, lining pipes for the well and labour costs, and if we can raise another £500 (US$665) in the next month we hope to be able to work with a potential corporate partner to build the next permanent wildlife waterhole in February/early March (delayed from October/early November due to logistics and a lack of funding), subject of course to any continued COVID19 restrictions which may impact our timetable. Nonetheless we'd like to be in a position to commence work in February if it is logistically possible.
We don't want COVID19 to destroy the progress we have made in wild tiger conservation over the last 10 years and we want to ensure that our efforts to give wild tigers a wild future can keep gaining momentum. In spite of the challenges we have all faced over the last nine months, your collective spirit and generosity has been truly inspiring. Your donations and continued support over this time has strengthened our hope that when we pull through this pandemic, wild tigers will still thrive in the jungles of Bandhavgarh, and we will be able to carry on giving them a wild future. So on behalf of those tigers, we'd like to thank you for not forgetting that without your help we wouldn't be able to keep them safe.
It is already December and 2021 is just around the corner, as we reflect on the events of the last 3 months we know that they were not all good.
The Risks to wild Tigers escalated as the COVID19 Restrictions continued:
Human-Animal conflict has increased with tiger attacks on humans being almost a weekly or more frequent event, right now. Coupled with a farmer being killed by marauding wild elephants as he tried to save his crops;
Villagers poisoned a wild tigress and two of her cubs in a retaliatory attack due to persistent livestock killings;
Wild elephants have decimated many paddy fields ruining the rice crops of multiple villagers which will leave them with both food and income shortages in the coming months;
Human encroachment continues to increase to unprecedented levels as precious forest resources are plundered to keep food on the table for families who haven't had paid employment since 25 March 2020; and
Wild tigers are susceptible to COVID19 infection transmitted by humans.
But it's not all bad news for wild tigers
On a positive note, there have been some successes too:
We managed to raise £612 (US$803) towards our next waterhole construction, due to fantastic support from you all, which means that we've raised £4894 (US$6558) of our £11139 (US$14926) target to date;
We haven't lost any wild tigers to poachers (for 50 months) or retaliatory poisonings (for 2 months) as we have implemented double patrolling for as long as we have funding to keep this going;
There are five more tiger cubs which need to be protected since our last report;
The safe drinking water tanks provided at 4 remote patrolling camps are working well so patrollers no longer have to fill their drinking water bottles at the same waterholes used by tigers and other wildlife;
We still plan to put the next permanent waterhole for wild tigers in a critical dry location as soon as we have sufficient funds and the Indian COVID19 restrictions are lifted;
Our patrols are essential workers and continue to protect wild tigers.
How you can help
We don't know for certain how long this crisis will last, but what we do know is that we need to quadruple our efforts to keep wild tigers safe. It is normal to double our efforts throughout the peak poaching season, but we could be facing another four to six months of the same difficult conditions we've already set out in this project report. So the best way to help us keep wild tigers safe is to fund our projects today, because tomorrow might be too late.
Remember all new monthly donations set up during 2020 with qualify for a 100% GlobalGiving (200% match between 14 -18 December 2020 only) bonus match on month four: https://www.globalgiving.org/projects/water-for-bandhavgarhs-tigers/?show=recurring.
Here are some of the ways your donations help us to save wild tigers:
– £10 ($13) per month will help to drill 12 metres (39 feet) of bore-well to access underground water;
– £20 ($26) will help to drill 2 metres (6.5 feet) of bore-well to access underground water;
– £75 ($95) can pay a team of workers to prepare a site for a new waterhole for wild tigers;
– £380 ($475) will fund 6% of a solar system to bring underground water to the surface.
Every donation, no matter how large or small, helps us increase and protect the tiger population. Thank you on behalf of the wild tigers, which you are helping us to keep safe; and on behalf of the wider tiger community in Bandhavgarh, which benefits from providing equipment and labour for our waterhole projects; we couldn't do this without you. Thanks to you, the tigers can live peacefully and those who live beside them can protect their livelihoods.
Any and all donations are welcome https://goto.gg/34315.
If you can't afford to donate perhaps you could become a become a Tigers4Ever fundraiser, here: https://www.globalgiving.org/dy/v2/fundraisers/start/?fundraiser.projids=34315 and ask your friends, colleagues and family to donate to your fundraiser to help us keep wild tigers safe.