Water For Life
Affectionate moment between a Tigress & her cub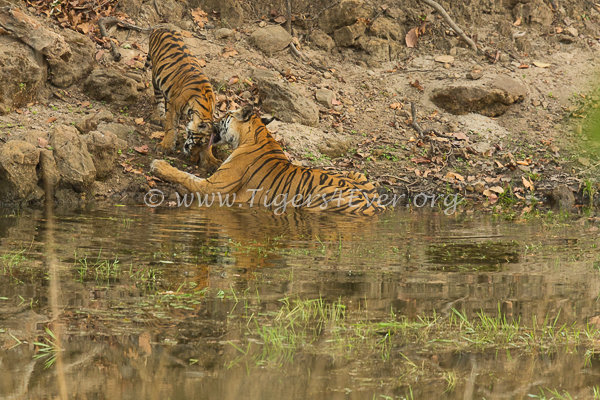 This is possibly one of the hardest project update reports which I have had to write. Three months ago we were filled with optimism that we could raise sufficient funds to complete another major waterhole for wild tigers before the drought season took its toll and before human-tiger conflict peaked. Then came along COVID19, and as you already know it changed everything. Optimism turned to fear, not just for when or even if things would ever return to the normal we knew before, but for the impact on the wild tigers and 10 years of our efforts to give them a wild future.
In spite of the new challenges we face, your collective spirit and generosity has been truly inspiring. Your donations and continued support over the past three months, especially during the Climate Action Campaign, has strengthened our hope that when we pull through this pandemic, wild tigers will still thrive in the jungles of Bandhavgarh, and we will be able to carry on giving them a wild future. So on behalf of those tigers, we'd like to thank you for not forgetting that without your help we wouldn't be able to keep them safe.
It is already June and since our last report so many things have happened but not all good.
The Risks to wild Tigers escalated as the COVID19 Lockdown began
Human-Tiger conflict has increased with three separate tiger attacks on people leaving two people dead (including a patroller) and one person critically injured in hospital;
Forest fires started by careless individuals have decimated several kilometres of forest habitat;
Human encroachment is at a year high as precious forest resources are plundered to keep food on the table for families who haven't had paid employment since 25 March 2020; and
Science tells us that wild tigers are susceptible to COVID19 infection transmitted by humans.
But it's not all bad news for wild tigers
On a positive note, there have been some successes too:
We managed to raise £1068 ($1335) towards our next waterhole construction, largely due to fantastic support from you all during climate action week, which means that we've raised £3939 ($4923) of our £10560 (US$13250) target to date;
We haven't lost any wild tigers to poachers (for 44 months) or retaliatory poisonings (for 5 years);
We heard this week that a tigress has given birth to five cubs and another has four new cubs so there are nine more tigers for us to protect now;
We managed to raise sufficient funds to get an emergency essentials parcel to the family of 38 year old patroller Chinta who was tragically killed by a tiger just 50 metres (165 feet) from a patrolling camp. We've also obtained a high quality sewing machine and 20 metres (66 feet) of premium quality materials to enable Chinta's widow and family to rebuild their lives with a small clothes making business.
We've also been raising funds to provide safe drinking water tanks at four remote patrolling camps so that patrollers don't have to fill their drinking water bottles at the same waterholes used by tigers and other wild animals. (See also: https://www.globalgiving.org/microprojects/water-for-bandhavgarhs-tiger-protectors/ for more details);
We still plan to put the next permanent waterhole for wild tigers in a critical dry location as soon as we have sufficient funds and the lockdown restrictions are lifted in India;
Our patrols are essential workers and continue to protect wild tigers.
How you can help
We don't know for certain how long this crisis will last, but what we do know is that we need to quadruple our efforts to keep wild tigers safe. It is normal to double our efforts throughout the peak poaching season, but we could be facing another six months of the same difficult conditions we've set out in this project report. So the best way to help us keep wild tigers safe is to fund our projects today, because tomorrow might be too late.
On 15 July 2020, you can also support our GlobalGiving Bonus Day matched funding campaign. All day, any donations above $100 (£82) will be matched by on a tiered basis, at no extra cost to you. Participate in our GlobalGiving campaign here https://goto.gg/34315, and remember that all new monthly donations will receive a 100% bonus match on month four too.
Here are some of the ways your money helps us to save wild tigers:
– £20 ($26) will help to drill 2 metres (6.5 feet) of bore-well to access underground water;
– £75 ($95) can pay a team of workers to prepare a site for a new waterhole for wild tigers;
– £380 ($475) will fund 6% of a solar system to bring underground water to the surface.
Every donation, no matter how large or small, helps us increase and protect the tiger population. Thank you on behalf of the wild tigers, which you are helping us to keep safe; and on behalf of the wider tiger community in Bandhavgarh, which benefits from providing equipment and labour for our waterhole projects; we couldn't do this without you. Thanks to you, the tigers can live peacefully and those who live beside them can protect their livelihoods.
Any and all donations are welcome https://goto.gg/34315.
If you can't afford to donate perhaps you could become a become a Tigers4Ever fundraiser, here: https://www.globalgiving.org/dy/v2/fundraisers/start/?fundraiser.projids=34315 and ask your friends, colleagues and family to donate to your fundraiser to help us keep wild tigers safe.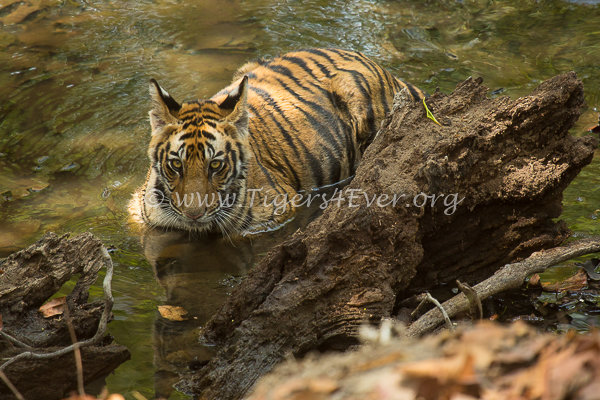 Tiger cub in Tigers4Ever Waterhole
Links: