We Gave Them Hope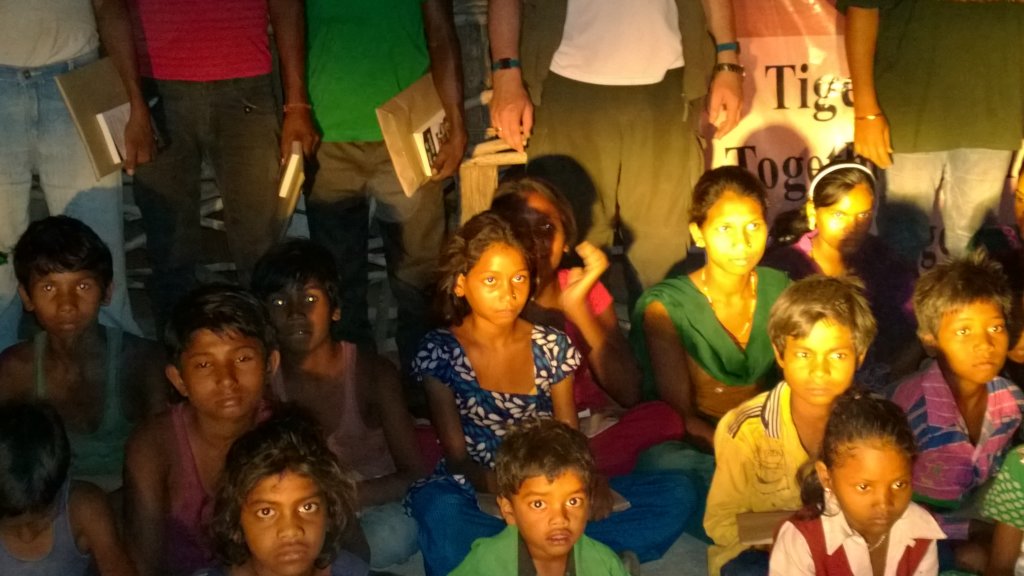 Over the last year we've faced some of the biggest challenges of our lives. No matter where we live or work we've all felt the impact of COVID19, some more than others admittedly, but the pandemic nature of this disease has truly had global impacts beyond what we could have imagined a few years ago. Throughout this time, we have been amazed and truly grateful for your help, we definitely couldn't have kept wild tigers safe without your help. Now, as the vaccination programme continues, families all over the world hope for some kind of normality to return. We have no real idea what the new normal will be, and in some cases, no idea when this may begin, but we all cling onto the hope that there will be a safe, healthy new normal soon.
Those of you who have young children will no doubt appreciate the challenges of home schooling coupled with home working whilst fighting for space have brought, but in rural India many people have faced even bigger challenges with no work and the schools closed since 25 March 2020. For thousands of young children, this has meant no schooling at all; these children don't have access to either a computer or mobile phone so remote learning is not an option for them. These are the children which Tigers4Ever usually tries to help. When we give these children books and basic writing materials we give them hope, we give them a chance to go to school which otherwise they may not have. We want to tell you Sonali's story, as an example of how COVID19 has impacted her dreams. Sonali is just an ordinary young girl living in one of the villages around Bandhavgarh Tiger Reserve, where many families don't have electricity, computers or mobile phones. Her story could be the story of thousands of young children living with wild tigers and facing an uncertain future after missing a year of learning.
Sonali, is 12 years old now, before the COVID19 pandemic she attended the state school in a neighbouring village five miles from her home. Each day she would walk along the forest trails where wild animals including tigers and leopards roam, just to follow her dream of a different life. When she got her first education pack from Tigers4Ever, she had never been to school. Sonali's parents are farmers with a small holding, but often lose up to 65% of their crops to deer, monkeys and other wild animals with a voracious appetite for the new shoots of grain crops and the seasonal fruit and vegetables grown. Recently, wild elephants destroyed 50% of their rice crops too, thus there is little hope of buying the school books and writing materials which Sonali and her siblings desperately need. Sonali really enjoyed going to school, she had learnt to count, to read and to write; she had started to dream. Like most young girls of her age, she changed her mind about what she wanted to do when she is older, but teacher, nurse and wildlife ranger were amongst her favourite ideas. To have any hope of doing any of these jobs, Sonali will need to complete her education; she already lost the first three years of schooling because her parents couldn't afford to send her to school, now COVID19 has robbed Sonali of another year.
If children like Sonali, can't return to school when they reopen (hopefully) in April 2021, it is likely that they will never return. We could then face a lost generation of young people who could have been future protectors of wild tigers but will be more likely to threaten the future existence of tigers in the wild due to the need for more space for crops to feed bigger families and more destruction of the vulnerable ecosystem which is the tigers' forest home
Sonali's parents don't want a life of poverty and struggles for the daughter and her five siblings; they simply can't find the funds to send their children to school. Each day starts at 5 a.m. for Sonali and her siblings right now, if there is enough food in the house they may have breakfast before going into the fields to remove the weeds which threaten the growth of the wheat crop, and to harvest some vegetables to eat and sell. Sonali is big enough now to carry the water urn so at 7 a.m. she walks to the river with her mother and sister to get the water they need for the day. Sonali will have to carry 5 litres (just over a gallon) of water for a mile every day or the family will go short. Sonali is learning to cook on the open fire outside her home, so she must also go into the forest to collect wood to burn so she can learn this life skill too. When Sonali is 14, her parents will try to get a dowry together so that Sonali can get married and have a family of her own. As Sonali plants seeds in the field for the next vegetable crop, she wonders if she will ever see her friends in the school again, let alone fulfil her dream of becoming a teacher, nurse or wildlife ranger. Night falls, and Sonali goes to sleep on the single bed which she shares with three of her siblings, tomorrow is another day and she needs to help her father build a new fence around the vegetable patch to try to stop the monkeys taking them all.
We want to help families like Sonali's to ensure that the poorest children get a chance to complete their education too. So when this COVID19 nightmare ends we'll be looking to fund scholarships at a new school in Bandhavgarh too, in the meantime, we'd still like to provide education packs for when the schools reopen too. If you'd like to be continually involved in supporting the education of rural children in Bandhavgarh like Sonali, you can start a monthly recurring donation from just £5 per month, which will make a huge difference in offering future education for them. The link to start a recurring donation is: https://www.globalgiving.org/projects/education-saves-tigers/?show=recurring.
The sense of despair and uncertainty which has been brought about by COVID19 has to end sometime, hopefully soon. So it would be truly amazing if out of this despair we were able to give at least 100 children, like Sonali, a chance to return to school and learn the skills which they will need if they are to become tiger protectors, teachers, nurses or doctors in the future? You can make that happen too with a donation of £25 (US$34) we can send 5 children to schoolhttps://goto.gg/32565.
Imagine the Difference
Remember: when we provide education packs and scholarships for children living with wild tigers we are reducing the risk of future tiger habitat destruction AND ensuring that these children have the opportunity to become future tiger protectors.
I would like to thank you for your generosity and support on behalf of the wild tigers, which we are keeping safe; on behalf of the children who we have previously helped to get an education (and their families who will have food because of this help); and on behalf of the wider tiger community in Bandhavgarh, which benefits from providing books and writing equipment for inclusion in the education packs which we distribute. Stay Safe in these challenging times.
Links: