Winter Challenges
By Dr. Corinne Taylor-Smith – Project Leader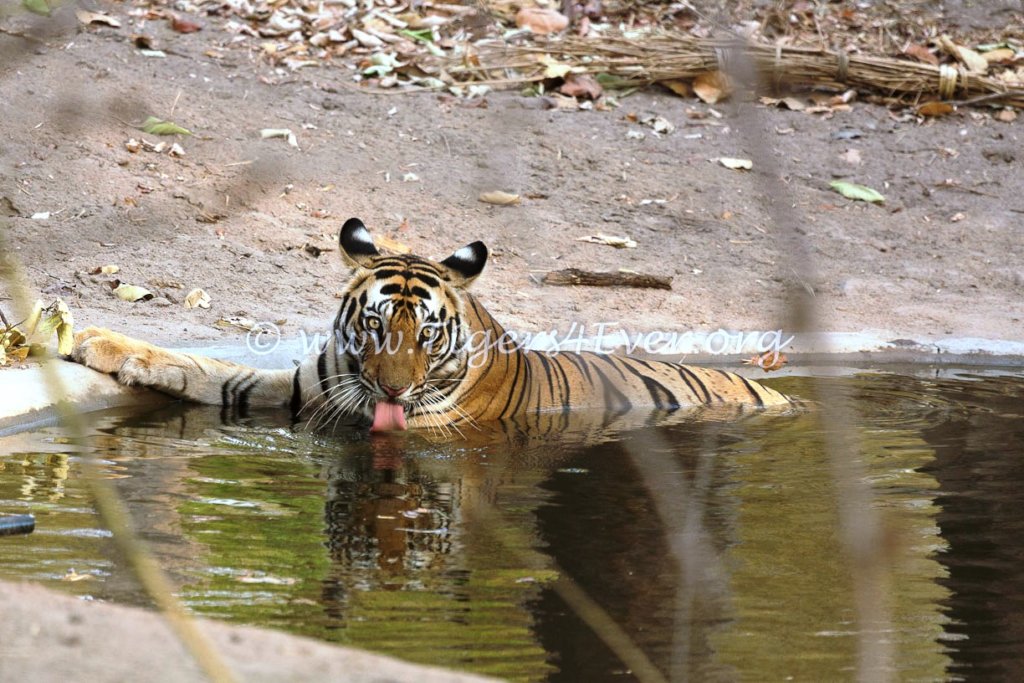 Tigers like to sit in waterholes in the dry season
Winter Challenges
Thank you for your continued amazing support for our projects to give wild tigers a wild future. Without you, more than 90% of what we achieve would be impossible. For our supporters in the USA who will be celebrating Thanksgiving on 28 November 2019 and those in Canada who celebrated on 14 October 2019, you will know that it is a time when people come together and celebrate the joy of giving and of being together in good health. In India too, the joy of giving was celebrated during Daan Utsav (02 – 08 October 2019). Those who celebrate (or celebrated) these festivals know just how important it is to reflect on what you can do or say to help others and the importance of saying thank you. We want to do the same by saying thank you for thinking about Tigers4Ever, thank you for helping us to save wild tigers and thank you on behalf of the wild tigers whose numbers have doubled since we started our work back in June 2010.
This year on Giving Tuesday, 03 December 2019, we will be bringing our first podcast to the world to give everyone an update of Shashi's story. Those of you who follow us on social media will know that we launched Shashi's Story – "A day in the life of a wild tiger" on Global Tiger Day (29 July 2019). Shashi is one of three brothers made famous by the BBC series "Tiger Dynasties" in late 2017, son of the Rajbehra female and Bamera, this young male tiger has to find his place in the jungle and to avoid conflict with humans and other tigers. Every day is a challenge for a sub-adult male tiger and our series of five podcasts will narrate the new challenges which Shashi must face to become an alpha male. Keep an eye on our website https://tigers4ever.org/ and our social media channels for further announcements about the launch of our podcasts: "Shashi – Tiger Encounters" over the next few days.
Like Shashi, the wild tigers of Bandhavgarh will face new challenges over the coming weeks as winter arrives in the jungle. With it, comes overnight and early morning temperatures near freezing and early morning mists which provide a little extra cover for wild tigers wishing to sneak up on their prey. It makes difficult conditions for our anti-poaching patrollers too as the freezing temperatures bite to the core and early morning mists bring increased dangers due to reduced visibility. This, however, is a report about our waterhole project and the need to address the impending shortage of water for wildlife with the dry season will bring as winter ebbs away into Summer (you may recall that the jungles of Bandhavgarh don't experience Spring). In recent years, the hot drier weather has been arriving earlier and earlier; rivers and streams which once had a healthy flow of water until late February are now drying out before January draws to a close. The same is happening in lakes and ponds, where plentiful water is soon replaced by sandy banks leading to a small puddle or even a dry sandy basin.
It is not just tigers who will need to find water over the five months until the monsoon rains arrive; it is their prey too. As the dry season takes hold, human-animal conflict increases day by day as herbivores enter the villages in search of water and feast on the crops whilst there. Predators inevitably follow and when the natural prey flee the scene tigers and leopards take livestock which lack the instinct to run away. If it happened just once, the farmers and villagers who suffer the loss might be appeased by the compensation, but it sets a precedent for the wildlife which has discovered an easy source of food and thus angry humans are moved to take matters into their own hands. Some villagers who lose almost everything to these raids, set wire snares and traps to stop future raids, whilst others poison the carcasses of their dead livestock to kill the tiger or leopard (and their cubs) when they return to finish their meal…..
In our experience, prevention is better than compensation and our permanent wildlife waterholes are part of the prevention solution. If prey animals have adequate water resources inside the protected areas of the national park then they don't need to enter the villages in search for it. Likewise, if the prey hasn't wandered away the predators have a plentiful food supply on hand and don't need to enter the villages in a desperate search for food. So by providing year round water, we are helping to keep wildlife including tigers away from traps and snares; AND eliminating retaliatory poisonings by villagers disgruntled by the loss of their livestock. There will always be exceptions but by keeping these to minimum levels and working with the authorities to ensure the villagers receive prompt and adequate compensation, we are keeping wild tigers alive.
We are currently working closely with the forest department which has recently concluded its mapping of all water resources around Bandhavgarh including underground streams and wells, artificial constructed seasonal waterholes and natural water resources. This is valuable information and is used to help us, in conjunction with surveyors and reports from the forest patrollers, determine the priority needs for our current and future waterhole projects. We include in our weighting the total number of predators, including tigers, most likely to benefit from a permanent waterhole at a particular site, as well as knowledge of human-animal and tiger-tiger conflicts within the area. These factors help us to focus our attention on delivering the right solution at the right time, subject to available funds, of course.
To date, we have raised £2192 (US$2750) of our £10560 (US$13250) target to complete our next waterhole project so we really need your help to enable us to start work before natural water resources dry up and human-animal conflict becomes rife. It is a huge ask, especially with Christmas on the way but if 21 of our supporters could help us to raise £400 (US$500) each then we could start work on our next waterhole which could benefit up to 16 wild tigers including cubs in next few weeks. Each £400 (US$500) donation helps us to fund 6% of a solar-powered pump system to bring underground water to the surface for wild tigers. Without these funds, starting this vital work will be delayed and we will be at the mercy of the weather as to when the natural water resources run dry. The good news is that #GivingTuesday (03 December 2019) is almost upon us, and any donations which we receive on that day to our waterhole project at: https://goto.gg/34315 will qualify for a share of a matched funding bonus (on donations up to $1000). The matched funds bonus will be proportionally shared between all the projects receiving donations via GlobalGiving on that day which will be dependent upon the total funds raised. However, all donations (up to $1000) received will qualify for a share of the bonus and all bonus funds received will help us to reach our target quicker. There are also bonus prizes to be won for the projects with the most unique donors and most funds raised, but we need 20+ unique donors to qualify for one of these.
We know that not everyone can afford such a large donation so all donations are more than welcome no matter how large or small. Some of you will even be going green this Christmas and donating to charity in lieu of sending Christmas cards, if you are doing this and encouraging your friends to do the same, let us see whether we can get some momentum going by sharing #GiveATigerADrink4Xmas & #TigersNeedXmasDrinksToo on your social media channels, don't forget to share our link: https://goto.gg/34315 with your post.
We are still trying to find a major donor or project sponsor in the interim, but if we achieve our target and find a major donor we'll be able to build not one but two permanent wildlife waterholes before the drought season takes hold.
Remember all our waterholes are constructed with the environment in mind; we use solar powered pumps to avoid water tankers polluting the jungle and soak away systems to ensure excess water returns to its underground source. So by helping us to provide drinking water for wild tigers you're helping to reduce the impacts of climate change and reducing human-animal conflict in the jungles of central India:https://goto.gg/34315.
Thank you on behalf of the wild tigers, which you are helping us to keep safe; and on behalf of the wider tiger community in Bandhavgarh, which benefits from providing equipment and labour for our waterhole projects; we couldn't do this without you. May I take this opportunity to wish those of you who celebrate it a very Merry Christmas, and to wish everyone a happy and prosperous New Year.