New Challenges and Opportunities
Education Helps to Save Wild Tigers – New Challenges and Opportunities
Schooling with a Difference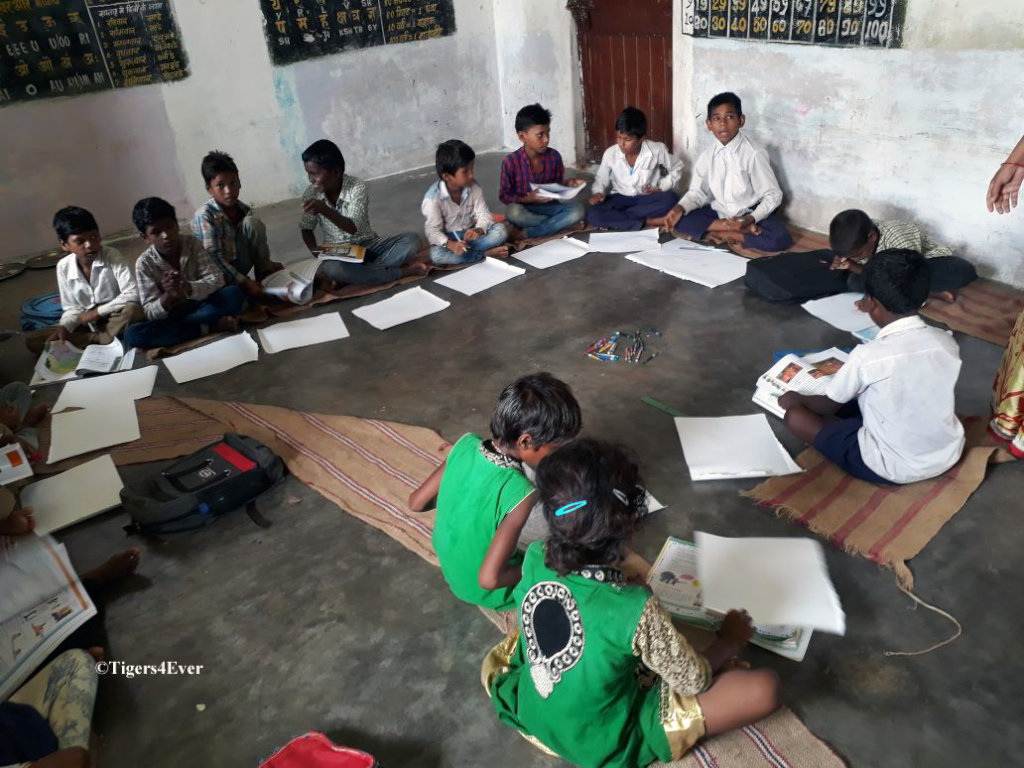 In the last four months, families all over the world have faced new challenges due to COVID19, Lockdown measures, home-schooling, etc. The list seems potentially endless. In rural India these challenges have had a devastating impact too: just imagine for one moment the challenge of home schooling without a computer, without the internet, without even books or a desk where your children or grandchildren can work – do you have that thought in your mind? How would you cope? Now imagine for a moment that you have no work, no food, no electricity, no running water and everyone is locked down together in a single room for 4 months. It is almost unimaginable isn't it? Well it is real, that is the challenge which the majority of families living around Bandhavgarh Tiger Reserve have faced since 25 March 2020, and what is worse is that the schools in India aren't expected to reopen until November 2020 at the earliest! So why are you writing an appeal for educational resources when the children can't even go to school, I hear you say?
Well the short answer is we can't just sit back and do nothing. We are already into the fourth week of the monsoon rains, so families already facing some of the hardest times of their lives are now facing the added challenges of thunderstorms which frequently fell large trees, farmers in their fields being struck by lightning (at least 145 people have been killed by lightning in Northern India in the last 4 weeks alone), and the potential to be driven to despair by the continued threat of COVID19 and the extreme poverty it has caused. So we spoke to our friends at the Global Tiger Conservation Society (GTCS) and asked what could be done to help the children who effectively will lose 8 months of access to education as a minimum. GTCS has agreed to teach English to 30 children at a time, 6 days per week until the schools re-open; which is fantastic news, however, the children need some basic writing materials and English-Hindi dictionaries so they can attend the classes and learn. Tigers4Ever wants to help by providing education packs and dictionaries for at least 30 children but we need your help to raise £200 (US$260) to cover the cost of these.
How you can help:
Just £20/US$26 will provide basic writing materials and an English-Hindi dictionary for 3 children living with wild tigers so they can learn to read, write and speak English.
Whereas £100/US$130 will buy basic writing materials and an English-Hindi dictionary for 15 children (half a class) living with wild tigers so they can learn to read, write and speak English.
Donate now at: https://goto.gg/32565.
Future Scholarships
We still intend to fund scholarship places at a new school in Bandhavgarh, but these plans are on hold until we have raised sufficient funds and the uncertainty caused by the COVID19 lockdown measures has been removed. We plan to prioritise children who have been directly impacted by the death of a parent due to wild animal attacks for these scholarships in the hope of giving them future opportunities they would otherwise miss, but if we cannot raise new funds, this will be impossible too. We expect to be able to funding a scholarship for one child for a year for £72 (US$96), and hope to get up to 10 people to sponsor these children at £6 (US$8) per month to make this possible: https://www.globalgiving.org/projects/education-saves-tigers/?show=recurring.
Global Tiger Day/International Tiger Day
On Global Tiger Day – 29 July 2020 – We wanted to do something different to help raise awareness about the plight of the wild tiger and the multiple threats and challenges which they face. COVID19, however, scuppered our plans to hold a week long wildlife art exhibition around the day. A few weeks ago we were approached by the Publishers BadPressInk regarding a book "Sinister Sisterhood" which is being released on Global Tiger Day and the author, Jane Badrock, is keen to donate 50% of the book profits to help big cat conservation. We were delighted to hear this, and Jane even agreed to a special edition supporting Tigers4Ever which is available from Amazon in Kindle and Paperback format using this link: https://badpress.ink/2020/07/26/tigers4ever-org-giving-wild-tigers-a-wild-future/ every copy sold will help our quest to save wild tigers, so we asked Tigers4Ever Trustee Dr. Sean Axon to use his past experience of reviewing books and publications and provide a special review of the book for our supporters. This is what Sean had to say:
"Sinister Sisterhood is a darkly-comic thriller about a group of female vigilantes seeking revenge on those who exploit wild animals or hunt them as trophies.
The lead character, Elle motivated by a chance conversation with her Aunt during a visit to India, decides to do something about "eliminating" the top 10 global trophy hunters. Under the guise of an employment agency, she assembles a crack team of female vigilantes each of whom has their own motivations and unique set of skills which they apply with great enthusiasm.
This is a fast-paced globetrotting adventure and the plot takes multiple twists and turns as we navigate the adventures and encounters of each of the Sinister Sisterhood as they pursue their adversaries. Without giving anything away, there are several macabre and laugh-out-loud moments throughout and whilst most rational people would not endorse the Sisterhood's unique direct approach, many would empathise with their cause.
The book is distinctly tongue-in-cheek and reminded me of a cross between the Agatha Raisin Mysteries and Charlie's Angels! That said, the book does deal with the serious underlying issue of animal exploitation and the threat posed by trophy hunters and criminal gangs to the very survival of endangered wild animals such as tigers. It also touches on people trafficking, modern slavery and the use of legitimate business as a front for criminal activities.
This would make a great gift for wild animal lovers, those who support conservation work or those who simply enjoy an easily readable thriller. I would recommend it as a great piece of escapism during these strange times."
We hope that our supporters will enjoy the book too.
Imagine the Difference
Cast your mind back to the beginning of this report, the sense of despair and uncertainty brought about by COVID19, sensations which sadly are all too familiar right now. So wouldn't it be truly amazing if out of this despair we were able to give at least 30 children the chance to speak English, a skill which they will need if they are to become tiger protectors in the future? You could make that happen too.
Remember: when we provide education packs for children living with wild tigers we are reducing the risk of future tiger habitat destruction AND ensuring that these children have the opportunity to become future tiger protectors.
I would like to thank you for your generosity and support on behalf of the wild tigers, which we are keeping safe; on behalf of the children who we have helped to get an education (and their families who will have food because of this help); and on behalf of the wider tiger community in Bandhavgarh, which benefits from providing books and writing equipment for inclusion in the education packs which we distribute. Stay Safe in these challenging times.
Global Tiger Day
Links: