More than just Water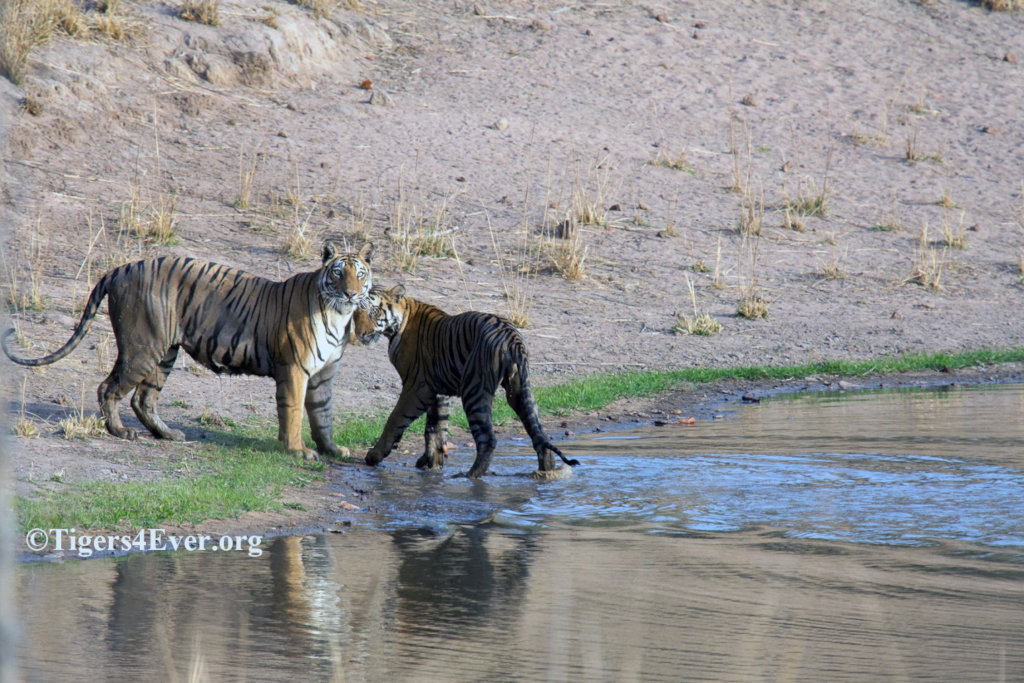 Three months has seemingly flown by, for the team in the UK at least. Like the rest of the world our biggest daily challenge is the ever advancing impact of COVID19. We feel well practiced now in that we've had six months to adapt but we know that it's not the same everywhere and we're mindful of this as we write. I think it is fair to say that 2020 has presented some of the biggest challenges that most of us will face in our lifetimes and it's not over yet.
Since our last project newsletter we've had the driest July on record in Bandhavgarh, followed by the wettest August for 40 years, who knows what September will bring? Right now we are working in collaboration with some geologists who are monitoring the patterns of surface water from the monsoon rains to see how much flood water is simply lost to run away and whether in future some of this lost water can be recycled to improve underground water sources. We can't just tap into all the underground water in the National Park to sustain year round water for wildlife without thinking how it can be replenished as monsoonal rains become more erratic year on year. If we want wild tigers to have year-round water in 100 years we need to capture and recycle as much rainwater as possible as it falls. We have already started this process by lining new waterholes with loam soil which improves the water holding and retention capacity of the waterholes in the hottest dry weather of the summers; and by ensuring that soak away systems return any overflow water around the waterholes to the underground water-streams and wells. In future we will look to installing recharge pits alongside future waterholes where it can be demonstrated that excess floodwaters from the monsoon rainfall will be able to recharge underground water sources from which we will pump water to the surface throughout the rest of the year. This is quite an exciting development for sustainable water for the future of Bandhavgarh's tigers and we hope to be in a position to tell you and show you more about this in our next report.
Thanks to your amazing support over the last three months our micro-project for the drinking water tanks was fully funded and we managed to provide four water tanks so that patrollers in remote locations have safe access to clean drinking water. We have also managed to raise another US$173 towards our next permanent wildlife waterhole project, which, given the challenges everyone is facing right now, is amazing too. Whilst our focus has been on keeping wild tigers out of poachers' snares and traps during the peak poaching season, which isn't over yet, we haven't forgotten our promise to build the next permanent wildlife waterhole, nor the tigers which it will benefit. As the monsoon rains will draw to a close in just a few weeks' time, we are now thinking about getting our waterhole plans back on track, we've almost covered the cost of drilling a new bore-well for the pump, lining pipes for the well and labour costs, and if we can raise another £1000 (US$1330) in the next month we hope to be able to work with a potential corporate partner to build the next permanent wildlife waterhole in late October/early November, subject of course to any COVID19 restrictions which may impact our timetable. Nonetheless we'd like to be in a position to commence work in late October if it is logistically possible.
We don't want COVID19 to destroy the progress we have made in wild tiger conservation over the last 10 years and we want to ensure that our efforts to give wild tigers a wild future can keep gaining momentum. In spite of the challenges we have all faced over the last six months, your collective spirit and generosity has been truly inspiring. Your donations and continued support over this time has strengthened our hope that when we pull through this pandemic, wild tigers will still thrive in the jungles of Bandhavgarh, and we will be able to carry on giving them a wild future. So on behalf of those tigers, we'd like to thank you for not forgetting that without your help we wouldn't be able to keep them safe.
It is already September and since our last report so many things have happened but not all good.
The Risks to wild Tigers escalated as the COVID19 Lockdown began
Human-Tiger conflict has increased with another tiger attack on a man in the last week, thankfully he survived and is out of hospital now;
Wild elephants have decimated several paddy fields ruining the rice crops of multiple villagers which will leave them with both food and income shortages in the coming months;
Human encroachment continues to increase as precious forest resources are plundered to keep food on the table for families who haven't had paid employment since 25 March 2020; and
Wild tigers are susceptible to COVID19 infection transmitted by humans.
But it's not all bad news for wild tigers
On a positive note, there have been some successes too:
We managed to raise £130 (US$173) towards our next waterhole construction, due to fantastic support from you all during, which means that we've raised £4122 (US$5482) of our £10560 (US$13250) target to date;
We haven't lost any wild tigers to poachers (for 47 months) or retaliatory poisonings (for 5 years and 3 months);
The tiger cubs we told you about last time are doing well so we still need to protect nine more tigers now;
We've also provided safe drinking water tanks at four remote patrolling camps so that patrollers don't have to fill their drinking water bottles at the same waterholes used by tigers and other wild animals, thanks to your help. (See also: https://www.globalgiving.org/microprojects/water-for-bandhavgarhs-tiger-protectors/ for more details);
We still plan to put the next permanent waterhole for wild tigers in a critical dry location as soon as we have sufficient funds and the lockdown restrictions are lifted in India;
Our patrols are essential workers and continue to protect wild tigers.
How you can help
We don't know for certain how long this crisis will last, but what we do know is that we need to quadruple our efforts to keep wild tigers safe. It is normal to double our efforts throughout the peak poaching season, but we could be facing another six months of the same difficult conditions we've set out in this project report. So the best way to help us keep wild tigers safe is to fund our projects today, because tomorrow might be too late.
Next week (14 – 18 September, 2020), you can also support our GlobalGiving Little by Little matched funding campaign. All week, any donations up to $50 (£38) will be matched by 50% bonus funds, at no extra cost to you. Participate in our GlobalGiving campaign here https://goto.gg/34315, and remember that all new monthly donations will receive a 100% bonus match on month four too.
Here are some of the ways your money helps us to save wild tigers:
– £20 ($26) will help to drill 2 metres (6.5 feet) of bore-well to access underground water;
– £75 ($95) can pay a team of workers to prepare a site for a new waterhole for wild tigers;
– £380 ($475) will fund 6% of a solar system to bring underground water to the surface.
Every donation, no matter how large or small, helps us increase and protect the tiger population. Thank you on behalf of the wild tigers, which you are helping us to keep safe; and on behalf of the wider tiger community in Bandhavgarh, which benefits from providing equipment and labour for our waterhole projects; we couldn't do this without you. Thanks to you, the tigers can live peacefully and those who live beside them can protect their livelihoods.
Any and all donations are welcome https://goto.gg/34315.
If you can't afford to donate perhaps you could become a become a Tigers4Ever fundraiser, here: https://www.globalgiving.org/dy/v2/fundraisers/start/?fundraiser.projids=34315 and ask your friends, colleagues and family to donate to your fundraiser to help us keep wild tigers safe.